Jennifer Hudson was about 200 pounds (90 kilos) when she decided to cordially change her life: it's time to lose weight.
Weight Loss Story of celebrity Jennifer Hudson
Hudson has lost an impressive 80 pounds during her few months dieting period.
The calorie counter reveals how Jennifer Hudson lost 80 pounds (36 kilos) and went from a size 16 to a size 6.

So HOW MUCH weight did Jennifer Hudson lose?
Weight loss story of Jennifer Hudson
Jennifer Hudson was about 200 pounds (90 kilos) when she decided to cordially change her life: it's time to lose weight. The moment she realized that came after she gained around 35 pounds during her pregnancy and after the birth of her son David Daniel in August 2009.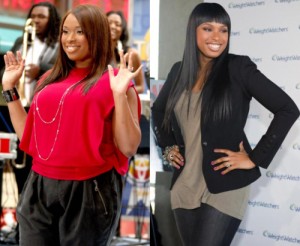 Excessive weight problems were not new for Jennifer Hudson. Even before the birth of a child, she struggled with excessive weight. Although she has always said that she does not care much and would not want to be too skinny, she still had to workout hard to keep herself in shape.
Just after two months after becoming a mother, Hudson was back with everyday routine exercising – walking for 45 minutes to an hour. And she joined Weight Watchers.
Jennifer Hudson Weight Loss Diet Plan
The secret of Jennifer Hudson diet is that it's all about portions and balance.
She has said that the main reason for her weight loss is a strict NO to carbohydrates in her food and constant exercising.
Sample meal plan below consists of 1,688 total calories:
Breakfast: A boiled egg, a slice of wholemeal bread, fruit, and coffee or tea.
Snack: Cheese, fruit snacks, nuts.
Lunch: Chicken and green beans / peas or pasta with tomatoes
Dinner: Soup and fish or ham or eggs, yogurt, and fruit
No-no to the red meat and fried foods
Jennifer mention that diet plan that she followed was not a very strict diet. It does not allow to intake more calories than needed while still allow to receive all necessarily vitamins and nutrition essential for a human body.
Jennifer Hudson Weight Loss Exercising Plan
Walking 30 minutes to an hour a day, then keep adding the gym, jogging, and bike riding
Jennifer also perform exercise called "trilogy" which includes sets of 25 squats, 25 push-ups, and 25 ab moves with minute-long rests in between for a total of 15 minutes.
Talking about her workout, Jennifer mention that even daily activities can be great exercise: When I lived on the 26th floor, I'd walk up the stairs instead of taking the elevator.
How does Jennifer Hudson maintain her weight
To maintain her weight, celebrity's calorie intake anything from 1,600 to 1,800 calories a day. She follows the same meal plan she was following while loosing weight. While following her diet and workout plan, Jennifer is tracking herself with Weight Watchers points.
Jennifer Hudson about self-esteem and motivation 
I can't care about whether I'm too big for some or too small for others. It goes back to how you feel about yourself.

Everybody wants you to wear this or put you on the cover of that. Before, my career was great, but since losing weight, I haven't stopped. I have worked every single day of this year.

"I feel like I gained 10 years of my youth back. I look 10 years younger" and added "people say to me: you have Jennifer Hudson's face. Are you her little sister?"
When Jennifer lost an impressive 80 pounds in 2010 she became the most recognizable spokesperson for Weight Watchers. And on September, 2011 celebrity opened her own "Weight Watchers Jennifer Hudson Center" in the South of Chicago.
Celebrity joins another Weight Watchers campaign